Welcome to continue the Food Hack by Biobord journey with us, in the follow-up workshop 28.04.2021 at 09:00 - 11:30 (EET)/08:00-10:30 (CET).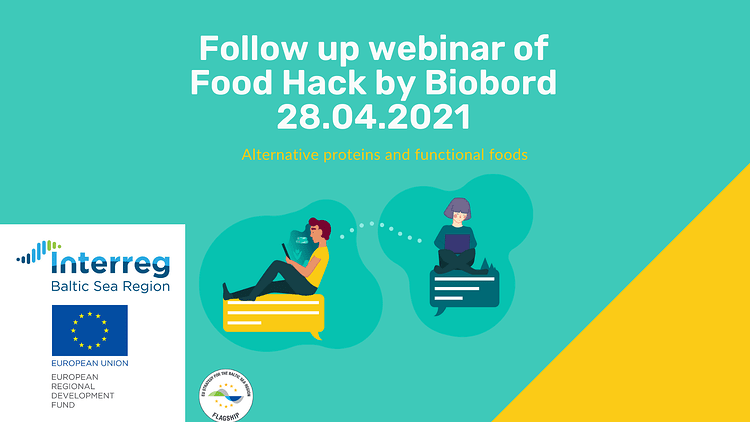 In the follow-up event the winning team of the Food Hack By Biobord, will continue their co-working and innovation, with the help of new expert coaches.
Please find here a summary of the main event Food Hack by Biobord: From marketing strategies to eating insects – Food Hack by Biobord brings innovative ideas to life
For the public audience, we are offering an interesting webinar of alternative proteins and functional foods, presented by industry experts and businesses. Register here for the free webinar (before 25.04.2021): https://link.webropolsurveys.com/S/8B572DEE97E4590B
Open program 28.04.2021:
please note program is in Eastern European time (EET)
AT 09:00 Welcome to the follow-up webinar of Food Hack by Biobord
AT 09:15 Meet the winning team of Food Hack by Biobord
AT 10:05 Break
AT 10:15 Keynote: Sirli Rosenvald, PhD - Head of Product Development and Sensorics Department from Estonian Center of Food and Fermentation Technologies - Organization Passionate About Biotechnology and Food Research.
AT 10:35 Case presentation: HIID - Superpower of nettle on your plate! By Margit Pruul, Founder of HIID.
AT 10:55 Case presentation: HOFU - Pure plant-based protein from pure Finnish Fava beans - a product that replaces traditional soy-based Tofu, by the co-founder Christos Granqvist
AT 11:30 The open program of the event ends, thank you!
'
Event is organized by Interreg BSR and EUSBSR -project ConnectedByBiobord.
Comments and questions related to the event, are welcome below.
Warmly welcome!