Welcome to the Forest Hack by Biobord 13.04. – 14.04.2021!
Forest Hack by Biobord is a digital innovation and co-creation event, where transnational teams are solving challenges related to data flow and data use in the forest value chain (from forest to industry).
Event is held by Interreg Baltic Sea Region and EUSBSR -project ConnectedByBiobord (about the project 201104 ConnectedByBiobord presentation.pdf ) and with the support of Finnish Forest Centre. According to Finnish Forest Centre:
"Accessibility of high quality, up-to-date and more accurate geographical Information , is the key driver for digitalization. Thus, it makes possible the development of new tools and services for forest and nature management." Read more: Finnish Forest Centre.pdf (80.0 KB)
If you are interested of forestry data and of its possibilities, this is the event for you! You may represent business sector, policy level, research side or you can be merely interested of the topic – We welcome you all to our event.
How to take part ?
Read through the challenges that we have acknowledged with the help of industry experts
Register to the event before 09.04.2021 and select the challenge what you would like to solve as a part of transnational team (1. choice and 2nd choice – teams will be formed based on your selections). Please note, if there are several participants from your organization, make sure that each participant registers. You may also divide to different challenges.
Wait for more information
Join the online event 13th and 14th of April: https://jamk.zoom.us/my/biobord
REGISTER: https://link.webropolsurveys.com/Participation/Public/777fbc82-245a-4b02-a04b-1679335c01d2?displayId=Fin2245674
Please find the event program from here - please note timetable is written according to Eastern European time: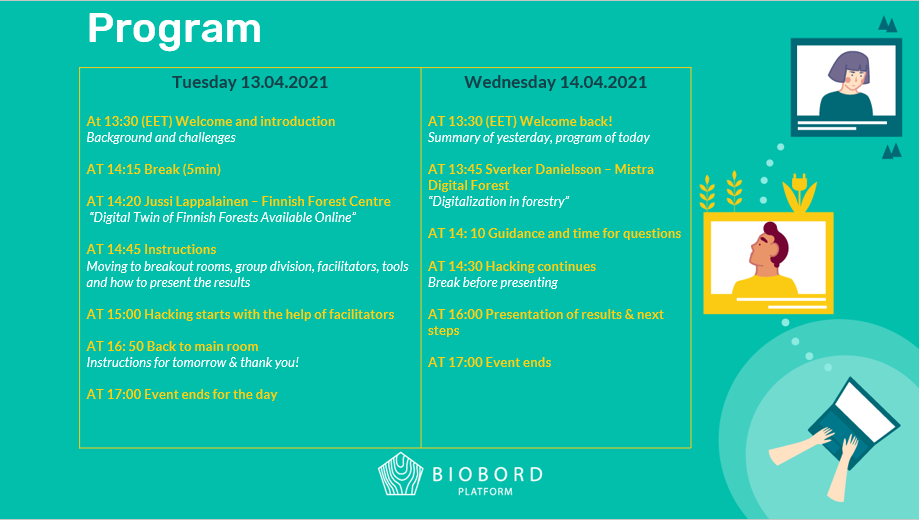 Before and after the event, you may network with each other in the comments of this Biobord topic. If you wish to learn more of the background work related to this hackathon, please read our analysis report from here.
Don't hesitate to contact us in case of questions and feel free to share the invite to your networks!