Telling the story of sustainable development impact
In Biobord, sustainable use of natural resources is a core value for the network operations. Our network involves strong expertise on e.g. applied ecology, sustainable agriculture and forestry, water protection and renewable energy. Developing a sustainable approach to bioeconomy requires information and understanding of the state of the natural environment, the availability and renewal of natural resources as well as the interactions affecting the ecosystems and their services.
As sustainable development goals are numerous and cut across economic, social and environmental development questions, it is often challenging to communicate, assess and elaborate the sustainability impact. The effects can be positive in one area of sustainability while negative in another – or the sustainability can be highlighted as a value without evidence to back-up the story objectively. To accomplish a sustainability reporting that is both scientifically soundly argued and understandable and attractive to wider audiences can be challenging. However, for a new bioeconomy product, service or process innovation, this can be a key questions for establishing access to markets or funding for commercialization.
During our piloting phase, four applied research and networking pilots are implemented to test the added-value of the Biobord platform for scaling and connecting regional pilots to international context. The data from these pilots is to be integrated to the platform with an interactive story-telling tool, impact report, that connects the data from the pilots to the wider BSR and global context. The tool connects the expected impact and achieved results e.g. to the UN Sustainable Development Goal targets and indicators.
To gain deeper understanding of the possibilities of the impact report, JAMK University of Applied Sciences tested the tool as an early adopter in 2019. The tool was used to tell the story and show the impact of the wetland testbed in Bioeconomy Campus.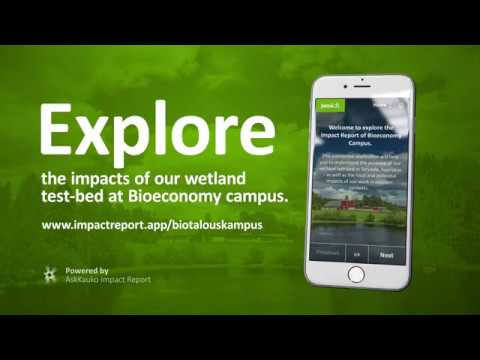 This trial helped the Biobord team in planning the use of the impact report for the communication on our local pilot cases. In addition, the wetland story is used by the Institute of Bioeconomy to promote the wetland testbed to various stakeholders. The story connects together expert work in water protection over the years and connects the story to the state of Baltic Sea and the control of nutrient run-offs from agriculture to water ways.
To find out more about the Finnish start-up behind this solutions, visit www.askkauko.com.