Have you been looking for an online environment where to implement your bioeconomy project ?
Biobord is here to serve you, for free!

Biobord forum is an excellent place for project work, since it is a discussion forum with open/closed groups. Registering and the use of Biobord does not cost anything and besides of communal working space, it offers wide bioeconomy expert community and up-to date knowledge. Biobord is a great place to network and share project updates!
Co-working on Biobord is easy since all data and discussions can be found from one place and with regulated access. All conversations and documents can be found from tidy files and topics and the only email you receive is a reminder that someone has updated your group's forum. No more emails or missing files!
Forum groups have different open/closed sub-groups:
As you can see from the picture, BeUBio-project has a discussion group with different elements. The main level of the group is open and there they could share open information. However their sub-groups are closed and meant only for project members. As a facilitator of a project group, you have ability to add/remove registered users to/from your group.
Biobord forum project group can be formed according to team's wishes. BeuBio has a good example that they have formed sub-groups according to work packages. Feel free to ask advice, if you are unsure how to set up your own group on the Biobord!
Free Biobord training is also available for the project team. Don't hesitate to request!
If you wish to set up a project group:
Think of the structure, introduction (ENG) and name of the group. Also, make a facilitation plan for your group! More information in Operating Model - Guide 2

Contact @Biobord_staff or admin @riikkakumpulainen

Have a picture of the group ready and first topics: group should never be established empty

After setting up your group (admin), edit all of the introduction topic inside of sub-groups and launch first topics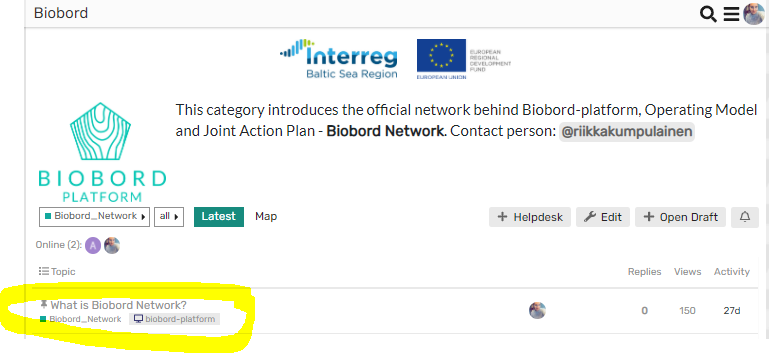 Invite your members on Biobord and to your group. Remember to share a user guide for new participants to help them with registering.

Follow your facilitation plan and share project updates also for whole Biobord community on the Open Biobord Forum! remember to take advantage of the community and its expertise!
TIP! Biobord also offers a supportive service for project management: a document management system called Resources. All forum groups have ability to have their own document cabinet in the Resources, where they can store their documents. All in one place and with limited access.
We welcome your project on Biobord!